If you're considering taking in some of North America's most beautiful National Parks, Zion should be at the top of your list. I can't say enough good things about my experience this past December when I traveled to Zion on a hiking and photography trip with my husband and two kids. The landscape and the views were absolutely breathtaking. It felt like we had been transported to another world, and we were completely in awe!
All the photos in this blog post were taken with my iPhone 14 and edited in Lightroom Mobile. Proof that any camera will do!
If you're planning a hiking and photo trip to Zion National Park, here are some helpful tips:
We went to Zion in late December which meant fewer crowds and access to the Zion Canyon Scenic drive with private vehicles. Since our kids had never done a big hiking trip before and long hours of hiking was exhausting for them, it was nice to be able to take relaxing, scenic drives through the park to end our days.
Only bring the camera gear you know you'll use
Hiking can be tiring as it is, never mind having to carry extra weight with all your cameras and lenses. I knew we'd have to carry water, snacks and layers of clothing with two kids in tow, so I made sure to bring a very small bag of camera gear. I brought my "big" camera, my Nikon Z6ii mirrorless camera and the Nikkor Z 14-30mm f 4 lens. I didn't bring any telephoto lenses because I didn't want the extra weight and I knew I'd mostly be interested in catching wide landscape views. I also brought my iPhone 14, and it ended up being the camera I used the most! The wide angle lens on the iPhone is perfect for sweeping canyon views and it's super light to carry. It was also super easy to stick my iPhone straight out of the top of our convertible Jeep to catch on-the-go shots as we drove down the scenic highway.
Plan out your hikes ahead of time
We made sure to get acquainted with all the best hiking trails at Zion before going on our trip. Planning ahead reduces stress and saves time. Due to the crazy travel fiascos during Christmas 2022, it took us 48 hours to fly to Zion National Park from Winnipeg! So when we arrived, we were exhausted. We decided to spend our first day in Zion doing lots of chill scenic drives and making a list of all the trails we wanted to hike in the week ahead. Make sure to stop at the Visitor Centre to grab paper maps and chat with the staff to get personalized suggestions. They'll give you advice based on your kids' ages and abilities, and based on weather conditions.
Start your day of hiking early
Even in the winter, the parking lots can get full fast and the trails can get busy. We aimed to start hiking by 9am every day to ensure that we had a parking spot at the hiking trail we wanted, and that there weren't too many people in my photos. The views are so beautiful, but too many tourists can ruin your shots! Start your days early and it'll be easier to take more photos without tourists in them.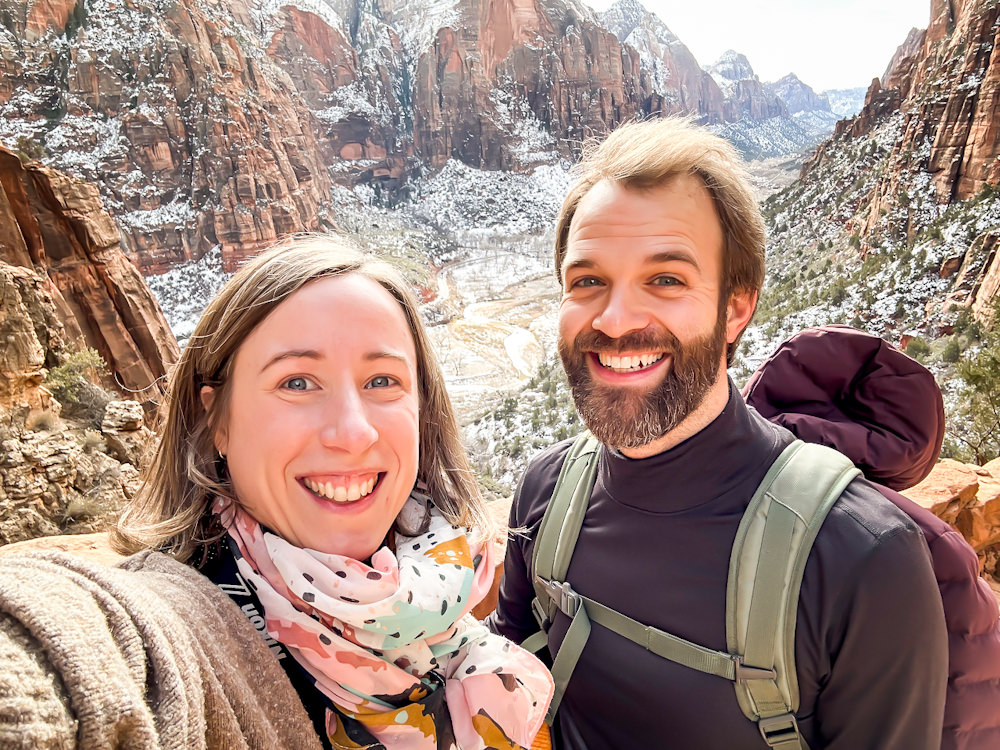 Keep your photos organized on the go
We ended every day around 5:15pm (sunset time in December) and headed back to our Airbnb for supper. An early sunset meant I had a lot of chill downtime in the evenings to go through my photos, select my favourites and edit them right away. Editing them on a daily basis helped me to keep the task manageable. I took thousands of photos in total, so staying on top of editing reduced my workload when I got back home. I used Mobile Lightroom on my phone to edit all my iPhone photos, and I used Lightroom CC on my laptop to edit all my Nikon photos.
Never miss a new blog post – sign up to my newsletter to get mobile phone photography tips and inspiration straight to your inbox: